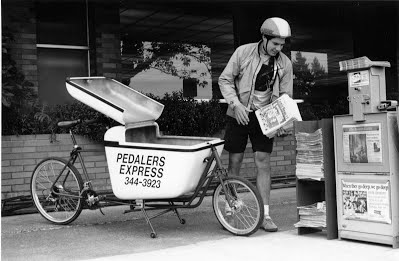 Jason Moore, the first Pedalers Express rider, and editor for Oregon Cycling, the offices of which were located at Center for Appropriate Transport.
Pedalers Express was founded by Jan Vander Tuin, who is the director of Center for Appropriate Transport and the man behind Human Powered Machines. Pedalers Express has been serving the Eugene and Springfield area for over 20 years as an affordable pedal-powered courier and delivery service. We focus on delivery by cargo bicycle for smaller deliveries, and by electrically-assisted tricycle for loads up to 1,200 lbs. No other service in the area can deliver by sheer volume like us.
In our long history, PedEx has always had a passion for local business- not only do we serve local attorney's offices, architecture firms, restaurants, and food wholesalers, but the cycles we ride are handmade here in Eugene at Human Powered Machines.
With each speedy, fossil fuel-free delivery made, we're making a difference in the community.